'Rue'
Blueamble The Flower Child
Sire: Gr Ch Blueamble My Toyboy Is Black
Dam: Ch Blueamble Take The Stage RN CD
Whelped: 17/12/2015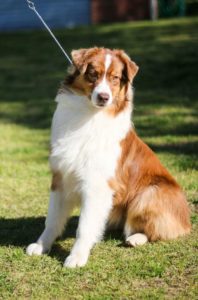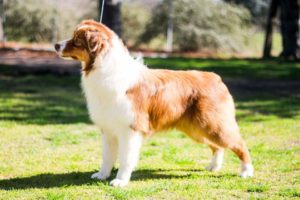 Rue is a lovely red tri girl from our litter last year.  She is a very smart girl, so eager to please and a very quick learner! She was shown lightly as a baby, and won some lovely baby puppy classes, and baby in groups under international judges.
We're hoping to see her back out in the ring soon!! 
She is owned by Ann and John at Blueamble Kennels.
Pedigree of – Blueamble The Glass Slipper

Parents
GrandParents
GreatGrandParents
SIRE: Gr Ch Blueamble My Toyboy Is Black
S: Am Ch Ch Wyndstar Sky Lights (IMP USA)
S: Saddleridge Rider A Los Carneros (USA)
D: Black Velvet's Penny Lane
D: Sup Ch Blueamble Stelaluna
S: Sup Ch Dykinta American Trilogy (IID)
D: Ch Dykinta Bohemian Rapsody
Dam : Ch Blueamble Take The Stage
S: Ch Sarasota Urban Legand HT
S: Ch Hotlee Inth Heat Othnite
D: Ch TillsunUnlock The Magic
D: Ch Blueamble Spoonfulasugar
S: Sup Ch Dykinta American Grafiti (IID)
D: Ch Dykinta Bohemian Rapsody