'Cinder'
Australian Ch. Blueamble The Glass Slipper
Sire: Ch Aolani's Maisilva Sonic Boom (IMP USA)
Dam: Sup Ch Blueamble Stelaluna
Whelped: 05/06/2015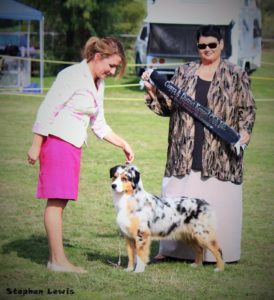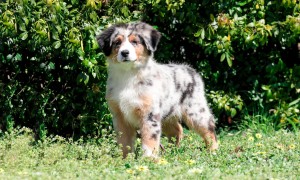 Cinder is having a show holiday Sue Brazier in NSW, and they are having the best time in the ring!! 
We are very excited to announce Cinder has now gained her final points, and can be known as an Australian Champion. 
Cinder is one of our keepers from Lunas previous litter.  She is a very pretty blue merle bitch with the sweetest of temperaments, and loves nothing more then a snuggle.  We are excited to see how she turns out, and hope she follows in her mums pawprints.  
In her limited amount of showing, she is already a multi baby in show winner! We are very excited to see where she goes in the future!
She is owned by Ann and John at Blueamble Kennels.
Pedigree of – Blueamble The Glass Slipper

Parents
GrandParents
GreatGrandParents

SIRE:

 Ch Aolani's Maisilva Sonic Boom (IMP USA) 
Sire : Ch Harmony Hill's Reed My Lips
S: Ch Copperridge's Fire N Bayouland
D: Ch Harmony Hill's Likely Storey

Ch. Harmony Hill's Under a Hula Moon

S: ASCA Ch. Harmony Hill's La Bamba
D: AKC/ ASCA Ch Bayoulands Hug me EZ
DAM: Supreme Ch Blueamble Stelaluna

SIRE: Gr Ch Dykinta American Trilogy (iid) HT

SIRE: ASCA CH Somercrest Macon Whoopie Again (USA)

DAM: GR CH AM CH Sugargum Top Shelf

DAM: Ch Dykinta Bohemian Rapsody

SIRE: CH Rhapsodys Arrogantly Striking(IMP USA)

DAM: GR CH AM CH Sugargum Top Shelf