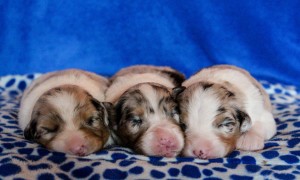 Here at Blueamble Kennels, we are very excited to announce our newest litter!
Please click on the puppy photos or names for more pictures as these beautiful babies grow!!
The parents of this lovely litter are Flick (Ch Blueamble Take The Stage RN CD) and Teddy (Ch Blueamble My Toyboy Is Black ET)
Flick has had 10 healthy, beautiful puppies, with babies ready to go to their new homes in February. We have a mixture of full tails, and NBT puppies.
We have the following babies:
3x Blue Merle Girls (2x FT, 1x NBT)
2x Red Tri Girls (2x NBT)
1x Black Tri Girl (1x NBT)
2x Blue Merle Dogs (1x FT, 1x NBT)
2x Black Tri Dogs (2x FT)
Blue Merle Girl 1 – Full Tail                  Blue Merle Girl 2 – Full Tail
      Blue Merle Girl – NBT                               Red Tri Girl 1 – NBT            
    Red Tri Girl 2 – NBT                                Black Tri Girl – NBT
Black Tri Dog 1 – Full Tail                        Black Tri Dog 2 – Full Tail
Blue Merle Dog – Full Tail                           Blue Merle Dog – NBT